White label web design refers to a practice in which one company offers web development and design services to another company, which then rebrands and resells those services as its own. This collaborative approach allows businesses to provide comprehensive web solutions under their own brand name without actually performing the development work themselves.
So why are white label services important? Well, they enable companies to expand their service offerings without the need for extensive in-house resources. It allows businesses to focus on their core competencies while offering a wider range of services to their clients.
What is white labelling in web design & development?
White labelling in web development and design involves partnering with a specialised agency to outsource the development of websites and digital solutions.
Essentially, companies can offer web development services to their clients without having an in-house development team. This strategy is particularly valuable when a business needs to expand its service portfolio while maintaining its brand identity and client relationships.
Why choose white label development?
White label development enables companies to tap into the expertise of specialised developers, reduce overhead costs, and expedite project delivery. By choosing white labelling, businesses can ensure they remain competitive in the fast-paced world of web design and development while focusing on their core business operations.
What Are the Benefits of White Label Web Development?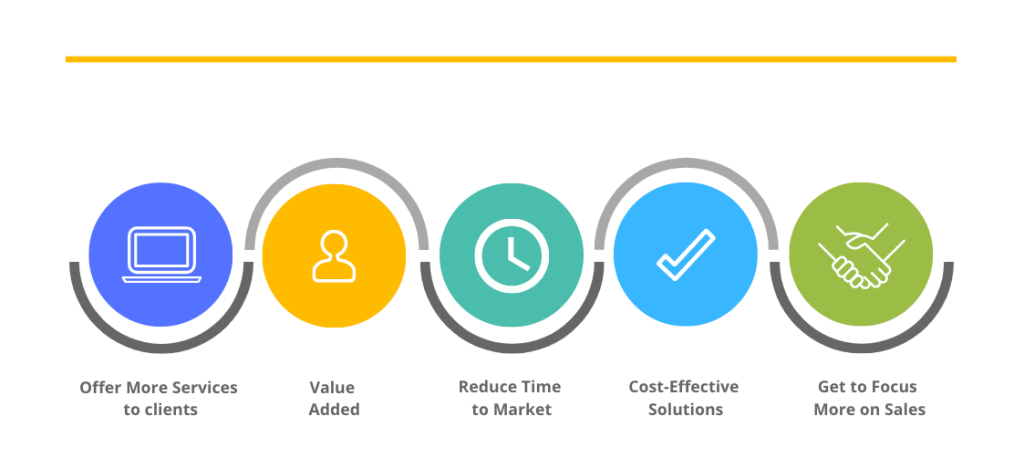 Here are just some of the benefits of white labelling:
1. Makes branding easy
Choosing white label website development services saves you time and effort on research and technical expertise. You receive a ready-made solution you can brand as your own.
2. Expand your digital services
White label web development allows you to offer more services to your customers without the hassle of having to worry about expertise or budget constraints.
3. Reduce time to market and facilitate agency growth
A white label partner can handle the development workload, which allows you to scale your agency's growth. Your business will save a lot of time as you won't have to develop your own solution, which can help you meet those tight deadlines.
4. Cost-effective solutions
As previously mentioned, customised web development solutions can take time, even for the simplest of projects, and time is money! Outsourcing web development eliminates the need for in-house teams and extensive resources, saving you money in the long run.
5. Potential to add value
One little-known benefit of opting for a white label solution is that you can produce extra support documents bearing your brand, and your website's dashboard can be linked to your support documentation and instructional videos.
6. Time to focus on sales
The best part is you'll have more time to focus on the really vital areas of your business, such as the bottom line, as well as client relationships, while your white label partner handles the technical aspects of web development.
Who Can Benefit from White Label Web Development Services?
Marketing agencies can benefit from white label development services to boost their digital service offerings. It can complement a design studio's services with development.
When small businesses choose white labelling, they can expand their online presence without extensive in-house resources. And startups can use of white label development to accelerate their product development and launch.
4 Reasons Why You Need White Label Web Development
Consider these compelling reasons for outsourcing web development through white label services:
1. Provide the Complete Package: Offer clients comprehensive solutions without compromising on quality or control.
2. Quality and Control: Benefit from experienced developers, flexible approaches, and cost-effective solutions tailored to your business's needs.
3. Save Time and Money: Avoid hiring and training additional staff by making use of an established web development team.
4. Build Strong Client Relationships: Demonstrate dedication to your client's success, fostering trust and loyalty.
White label web development offers a versatile and strategic approach for businesses to expand service offerings while maintaining brand identity. By partnering with a specialised web development agency, companies can provide a complete package of web solutions, save on costs, and build lasting client relationships.At Yellowball, we understand that white label web development is a valuable tool for staying competitive and meeting the diverse needs of clients in the digital world. Yellowball is an award-winning web design agency based in London, contact us today to find out how we can help you.